By: Jessica Arenz
As an instructional designer, I get asked a lot about what the differences are between AICC, SCORM and Tin Can/xAPI. Each of these protocols define how learning content communicates with a learning management system (LMS), but they offer differing methods for achieving similar outcomes. Here's a brief overview of each protocol, the advantages and disadvantages of each and comparative chart.
AICC HACP
This standard, created by the Aviation Industry Computer-Based Training Committee (AICC), was arguably the first standard in the world of eLearning technology. According to the AICC Wikipedia,
"AICC specifications are usually designed to be general purpose (not necessarily Aviation Specific) so that learning technology vendors can spread their costs across multiple markets and thus provide products (needed by the Aviation Industry) at a lower cost. This strategy has resulted in AICC specifications having broad acceptance and relevance to non-aviation and aviation users alike."
Early on, the AICC standard had gone through several revisions, but hasn't been updated in over a decade. However, HACP (HTTP-based AICC/CMI Protocol), a sub-specification of AICC, still has some relevance in the modern eLearning landscape. It allows content to be hosted on a separate server and supports HTTPs data transfers, meaning it can avoid cross-domain scripting issues. On the downside, AICC is considered out-of-date, has limited functionality, lacks progress tracking abilities and requires multiple operations to remove data from the string returned by the server.
SCORM 1.2 and 2004
While AICC may have stagnated, it laid the groundwork for the Shareable Content Object Reference Model (SCORM), a suite of eLearning specifications developed by the Advanced Distributed Learning (ADL) Initiative. According to the SCORM Wikipedia,
"SCORM is a collection of standards and specifications for web-based eLearning. It defines communications between client-side content and a host system (called "the run-time environment"), which is commonly supported by a LMS. SCORM also defines how content may be packaged into a transferable ZIP file…"
There are two versions of SCORM, 1.2 and 2004. SCORM 1.2 was the first widely used version, still supported by many LMSs. Although it delivers a solid specification for content packaging and migration between systems, SCORM 1.2 neglects content sequencing, meaning the user is free to explore any part of a course. SCORM 2004, the latest version, solved the sequencing issue in 1.2 by restricting the learners' experience to a specific path throughout the course material. 2004 also allows users to bookmark milestones as they make progress and store achieved test scores.
Unfortunately, SCORM doesn't address all the challenges of a modern learning enterprise. It doesn't define how tracking information is stored, what kind of reports are built or how learner-generated data is collected. In other words, SCORM doesn't allow for elaborate reporting and misses out on in-depth analysis of user activity. It's also worth pointing out that the last update to SCORM was in 2009, and traditional SCORM content is Flash-based, which may cause issues on new platforms and mobile devices. You can learn more about the death of Adobe Flash.
Tin Can/xAPI
Tin Can (xAPI or Experience API) is the successor of SCORM, which is also managed by ADL. According to the Experience API Wikipedia,
"The Experience API (xAPI), is an eLearning software specification that allows learning content and learning systems to speak to each other in a manner that records and tracks all types of learning experiences. Learning experiences are recorded in a Learning Record Store (LRS). LRSs can exist within traditional LMSs or on their own."
Although xAPI and SCORM's goal is the same: to track learners' activities, xAPI goes one step further.
xAPI is more reliable. Due to its recent development, xAPI is less susceptible to errors and has solid security. It also gives you the freedom of working outside an LMS, and no web browsers are required!

xAPI offers more tracking capabilities. xAPI has the ability to track diverse learning scenarios, be it simulations, games or any type of blended learning for real-world performance tracking.

xAPI delivers richer data. xAPI can record any relevant activity, such as mouse clicks and unique answer types for example, and gives you in-depth assessment results.

xAPI continues to evolve. xAPI is the best option for future-proofing the eLearning content you develop, as it continues to improve. Just last June, ADL introduced cmi5, a new xAPI protocol that bridges the gap between SCORM and xAPI.
Here's a helpful comparative chart of each standard from my eLearning World: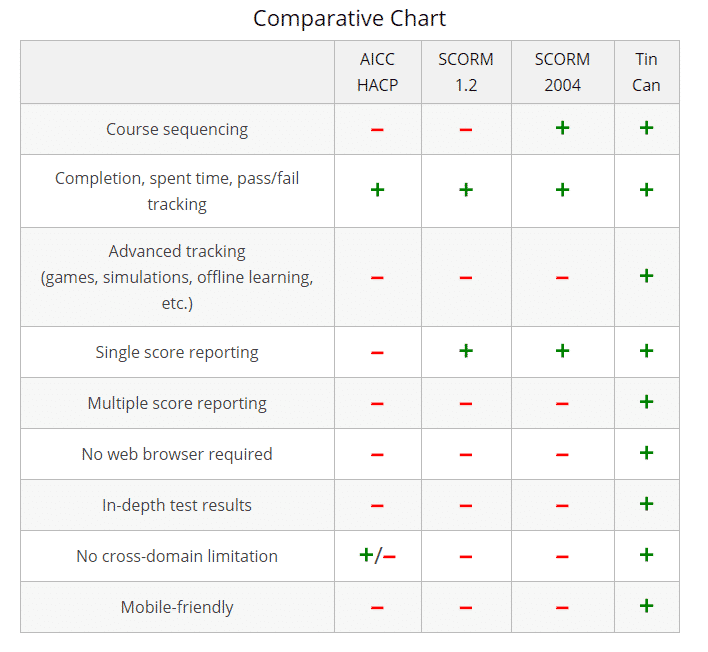 Final Thoughts
What's equally important as learner engagement, if not even more so in the modern eLearning landscape, is capturing the learning taking place with powerful APIs. Although SCORM is still very current and applicable, it doesn't capture the entire picture of eLearning. Learning is happening everywhere, not just in a traditional SCORM course inside a traditional LMS. Tin Can/xAPI can capture the entire picture for you.
If you still have any questions about xAPI, the technologies that can adopt it and how it can benefit your organization, please feel free to reach out! Webanywhere specializes in xAPI/Tin can integrations and all things open source.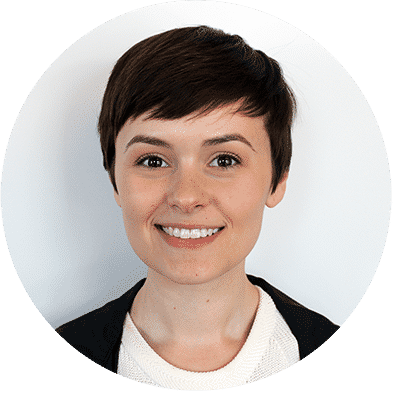 Jessica Arenz brings out the best of both worlds as an Instructional Designer and Marketing Executive at Webanywhere. She's passionate about proper brand messaging and retail training and development. Throughout her career she has worked on eLearning for companies like Walmart, Sam's Club, Kroger and Saks Fifth Avenue, to name a few. Jessica is one of many talented individuals on our team ready to collaborate with you on your next learning solution.