We know about the fun examples in cabin crew training, namely the 'Secret Code' developed by EasyJet. It's difficult to communicate in a huge aircraft with limited space, so you'll often see cabin crew gesticulating to communicate to other members of the crew at the opposite side of the aisle.
The secret code
EasyJet's Secret Code was developed for this purpose specifically, with special signals including:
bacon baguette
get the champagne
baby's bottle needs warming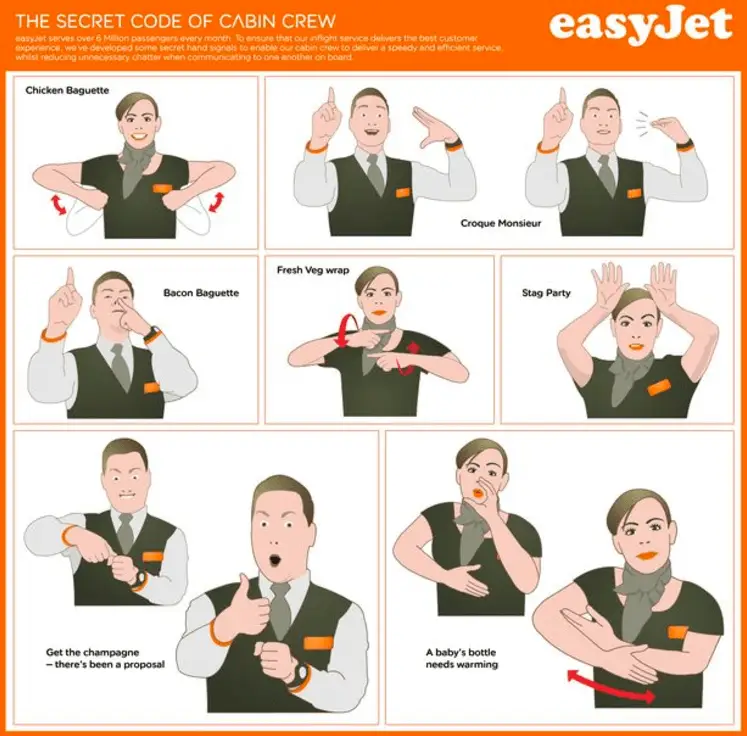 Source: easyjet.com | Secret code of cabin crew
Source: easyjet.com  | easyjet cabin member requests a bacon baguette
Although this is a funny example of how EasyJet have approached training their cabin crew on how to communicate, it works.
EasyJet: Training Programme
EasyJet have also opted an onboarding training programme prior to starting in the role. This model is common in corporate learning departments and provides the employee the opportunity to learn about the company culture and some of the skills they will need from day one.
EasyJet specifically on:
Safety and Equipment
First Aid
Aviation Security and Dangerous Goods; and
Customer Service and Cabin Service.
This method of flipped learning online means new employees can use the face-to-face onboarding training as more of a collaboration for questions and discussion with their peers.
Demand for pilots
According to Boeing, the aircraft manufacturer, 558,000 commercial pilots will be needed by 2034 to meet an increase in demand for air travel.  This equates to 28,000 extra jobs per year.  The significant increase in demand means higher pressure on the learning and development teams to deliver.
Sherry Carbary, VP at Boeing commented:
"Aircraft manufacturers, airlines, training equipment manufacturers, training delivery organizations, regulatory agencies and educational institutions are all stepping up to meet the increasing need to train and certify pilots and technicians."
The RyanAir approach
With increased demands on air travel, airlines are looking to use learning and development as their model to ensure they remain competitive.  RyanAir have invested in their 'labs' project which includes IT recruitment in Poland and Spain.
Their European expansion included opening a training centre in London in 2016. The training centre is located near to Stansted Airport and was part of a £1.24bn investment in Britain.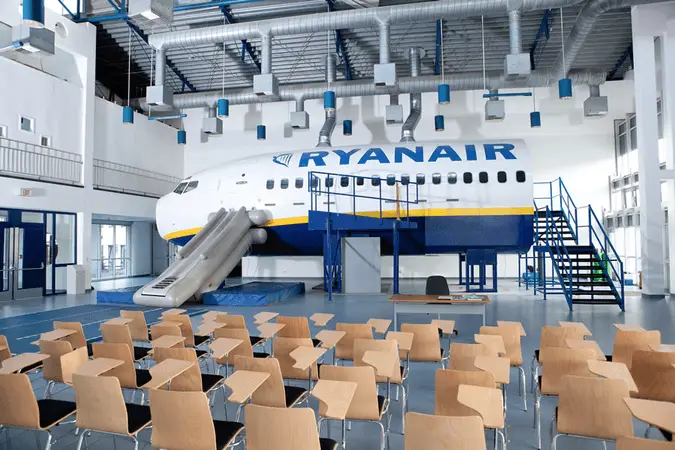 Source: Ryanair.com | Ryanair – classroom
The apprenticeship levy
With the new UK apprenticeship levy now in play, many airlines are using this model to support the growing demand for talent to grow their skilled workforce.  Accordingly, British Airways' Apprentice and Graduate Manager Karen Hewitt states:
"Apprenticeships are an excellent way to introduce talent to the workplace. You can learn new skills and gain vital on-the-job experience, all while earning a wage.  We are particularly proud of the retention rate of our apprentices – the majority of whom gain employment with the airline after their programme ends.'
As part of the new apprenticeship levy, airlines in the UK will now have to contribute 0.5% of their payroll to the apprenticeship programme. They will be able to use these funds to spend with specific approved government suppliers.
Heathrow Academy are training over 1,000 unemployed people, most of whom find a job at the end of the programme.  They are also providing levels 2 – 4 apprenticeships and have pledged to deliver over 500 this year.
Paula Stannett, Chief People Officer at Heathrow comments:
"There is a place for everyone at the airport – whatever your career ambition, we'll help you get there."
For more information about an airline's successful training programme, read about JetBlue's experience here.